Firefox extension: CookiePie
Problem: I'm testing a Facebook application of mine, so I've created a few 'testing' accounts. Rather than logging in/out of each account - I'd like to be logged into all accounts at the same time. Got me thinking there must be a Firefox extension to do this.
Solution: CookiePie: The CookiePie Firefox extension allows you to have cookies which remain only within one tab. After installing the extension, a new option is added to the right-click menu on your tabs - to toggle on/off the CookiePie feature. Exactly what I was after!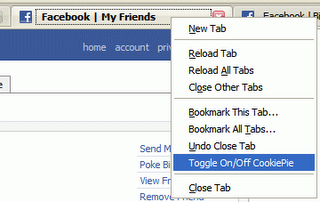 Labels: web dev